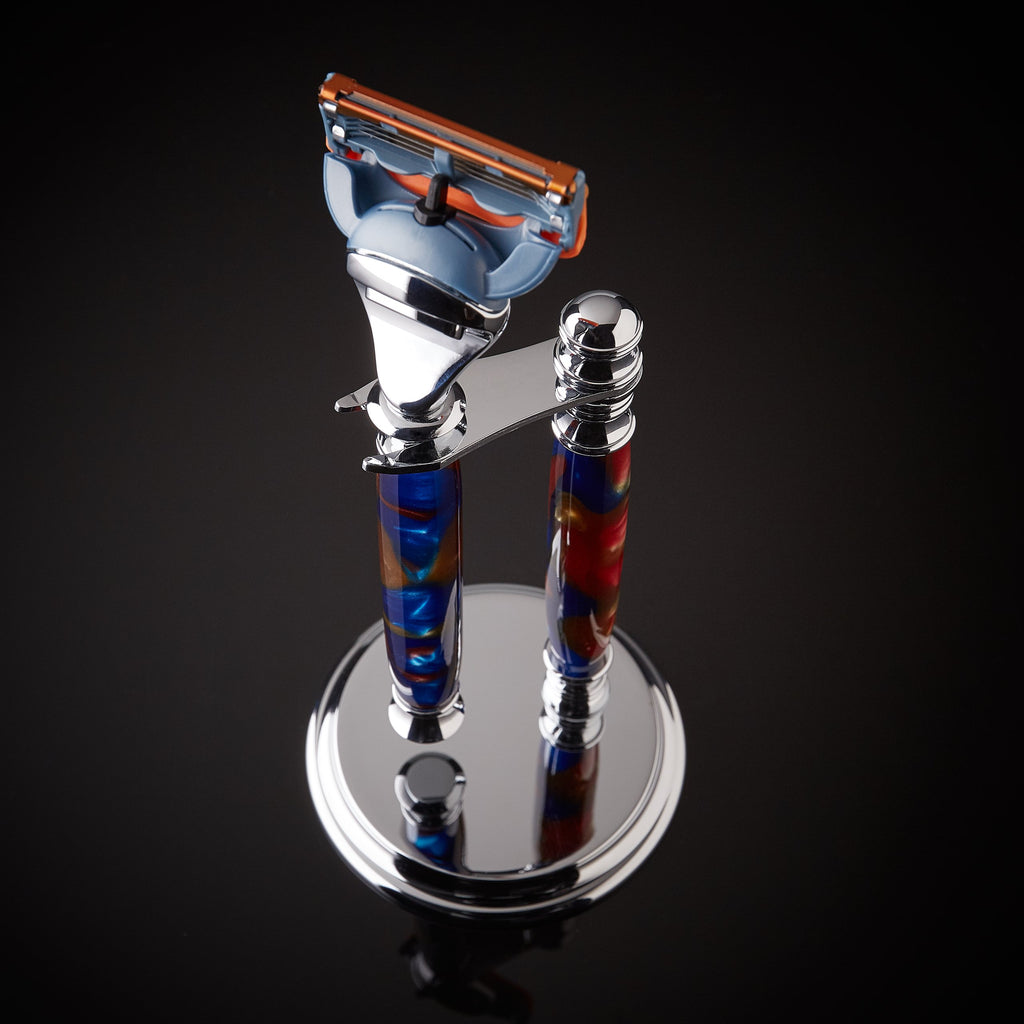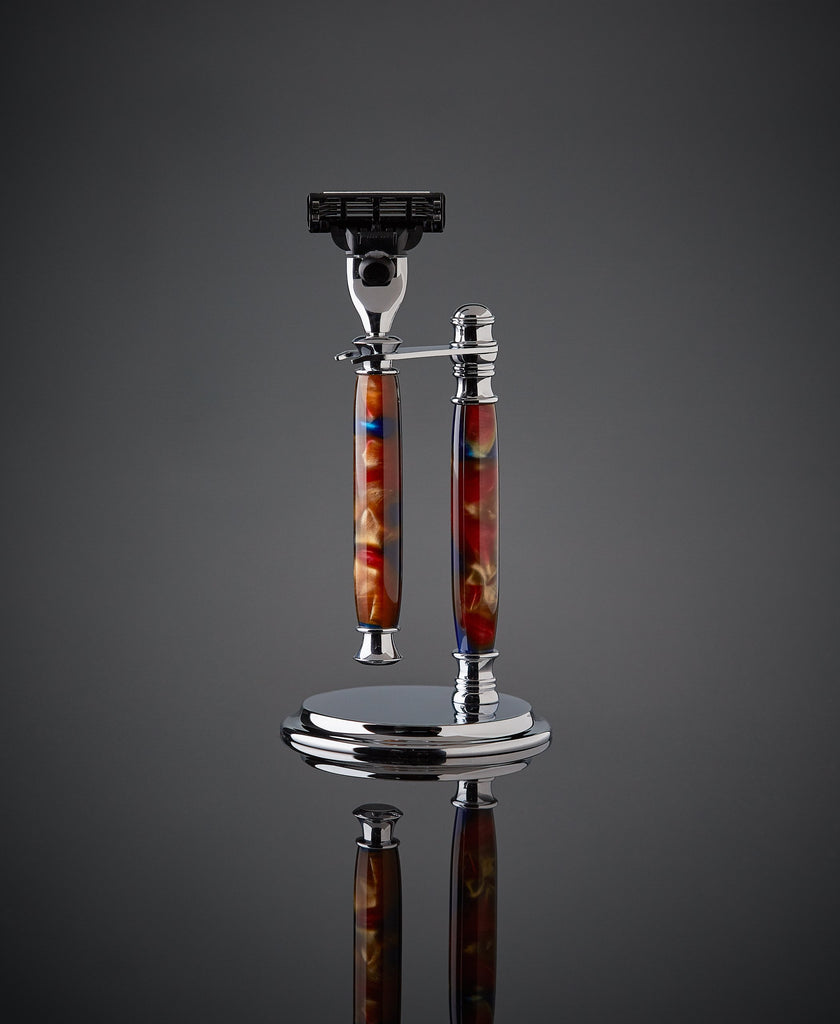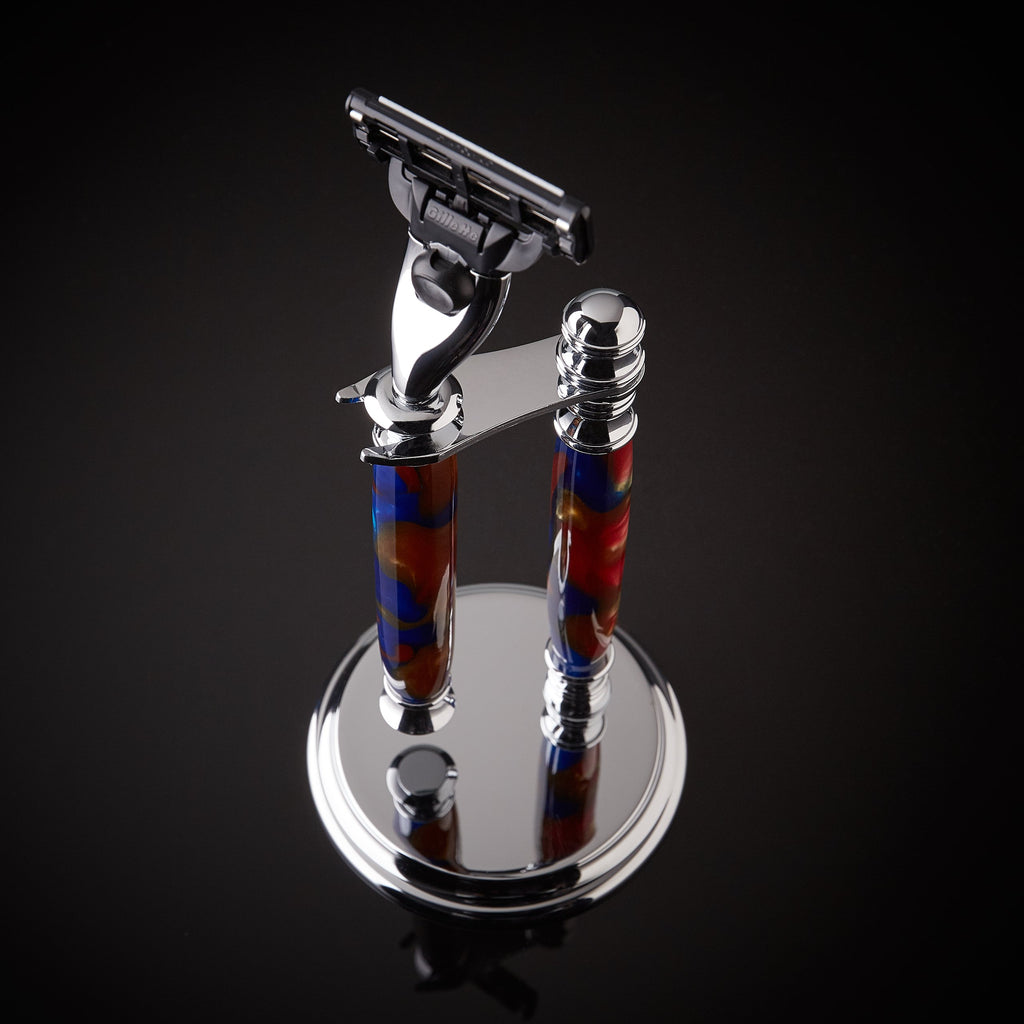 The Kampala Shave Set
The thunderstorms in Kampala draw spectators from across the world looking to capture the myriad of colors cascading down through bolts of lightning.  Our Kampala double-edge safety razor channels that storm of color through a hand mixed, plant-based acrylic handle.
This razor is made from a rich mix of blue, red, and gold in a process that takes two full days to complete. Each handle is one of a kind and gives the owner a brilliant show piece and a perfect shave. Replacing the safety blades is as quick as unscrewing the metal cage, popping in a new blade, and tightening it back up again. 
Why upgrade to an Imperium razor?
Shaving: a daily ritual for most of us, and one that's often overlooked as an act of self-care. The razor you use should be more than a hunk of mass-manufactured plastic.
Each time you pick up an Imperium razor, you'll notice the confidence that stems from treating yourself well. That begins with a well-appointed grooming routine, and tools that are just as much of a pleasure to use as they are to display.
Our handles aren't just beautiful: they're designed to fit your grip and counterweight the blade, for a smoother and closer shave
We use only sustainable materials and FSC-certified woods in all of our products
Each razor:
Is made in the USA in our Baltimore, MD studio
Is customized to fit the blade of your choice
Includes one free blade cartridge
Arrives in a luxury gift box
Includes free Priority Mail Shipping (6-8 business days)
Customer Reviews
04/27/2020
Jane C.

United States
I bought half of the Shave Set since my husband already had the razor
EXCELLENT!!! The stand was to accompany the razor, a gift for his 60th birthday. He is delighted.